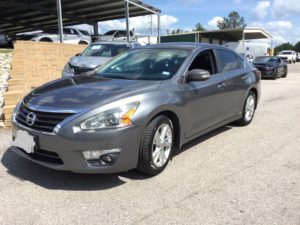 REPAIR PROCEDURE ISSUE:
Posted September 13, 2022
Our client's 2015 Nissan Altima was involved in a Hailstorm. Our client filed a comprehensive claim with his carrier Texas Farm Bureau Insurance for the loss. Texas Farm Bureau issued a loss statement/repair estimate for $8,343.33 before the deductible. Our client's certified collision facility issued a preliminary loss statement/repair plan for $11,496.01 to return the 2015 Nissan Altima to its pre-loss condition. Texas Farm Bureau deemed our client's vehicle an Economic Total Loss and offered our client $12,217.00 for his Altima. Our client wanted his Altima repaired and came to us for assistance with the loss dispute over Repair or Replace.
As a result of going through the appraisal process in the policy, our subsidiary Vehicle Value Experts came to a binding agreement with the Texas Farm Bureau independent 3rd party appraiser for $15,300.00 as the Actual Cash Value of the 2015 Nissan Altima.
The final binding agreement between the unbiased independent appraisers identified an under-indemnification of the loss of $3,2,75.42 or 25.6%. Texas Farm Bureau after the defining of the Actual Cash Value now understood it was in their best economic interest to repair the Altima. Through the invoking of the Texas Farm Bureau policy right of appraisal our client has been made whole for his loss with no out-of-pocket expense other than their deductible and his Altima has been restored to its pre-loss condition.